Players have engaged on the question of armors in depth over the last few weeks. This post summarizes some of the development that has begun behind the scenes on the topic to present balanced leather-dominant options that are effective and balanced for our setting. Pictures are added to make it more illustrative.
What types of armors will their be?
Basic Armors
Normal Leathers
(Leatherworking)
Supple leathers or furs sewn into garments and accessories. This is not technically armor, as it is the stock and trade of the average leatherworking clothier and not meant for reinforcement. That being said, leather is sturdier and offers more protection than simple fabric and so serves the purpose of being a light level of protection wherever on the body it is worn. A fur cloak may be meant for fashion, but that bear-hide helps in more ways than one.
Quilted Gambesons
(Basic-Cloth-Armorcraft)
A simple but sturdy form of protection, a gambeson is roughly thirty layers of linen or fabric, quilted together to form a solid protection. This is the simplest form of deliberate armor, and in the cold climes of the northern lands, has the added benefit of warmth. Usually forming a solid layer for the upper body and torso in the form of a jack or hauberk, this piece is easy to produce and maintain with lower costs.
Reinforced Leathers
(Basic-Leather-Armorcraft)
At this stage, leatherworking becomes more deliberately armor-making made for a protective purpose, and thus involves greater skill. Reinforced leathers work by layering thicker, heavier leather within another leather garment, providing better coverage to key areas of the body. These could be as functional as a sturdy hauberk or as stylish as a tooled vest, but the intentionality of the armorcrafter makes it more effective than simple leather clothing.
Ordinary Armors
Boiled Leather (aka cuir bouilli)
(Ordinary-Leather-Armorcraft)
Through more advanced techniques, leather is boiled and hardened to create stiff plates of leather that are used in place of metal. These leather plates are stitched onto cloth backing or linked together to create servicable pieces molded to fit portions of the body. The leather can be formed as leather scale or as lamellar bands.
Metal-Enhanced Armors
(ordinary-metal-armorcraft)
It is important to make the most of small amounts of metal, using them to strengthen and reinforce a base garment of supple leather or a quilted gambeson. The examples below are ways in which an ordinary-armorcrafter could accomplish this using a modest amount of metal to great effect.
Brigandine
Metal reinforcing fabric-based clothing. As this allows good protection with some elements of fabric and style still extant, it is preferred for many of the merchant guards or personal servants of the wealthy.
Metal on leather options...
Banded Leather
Lamellar
Ringed Leather
Metal-Studded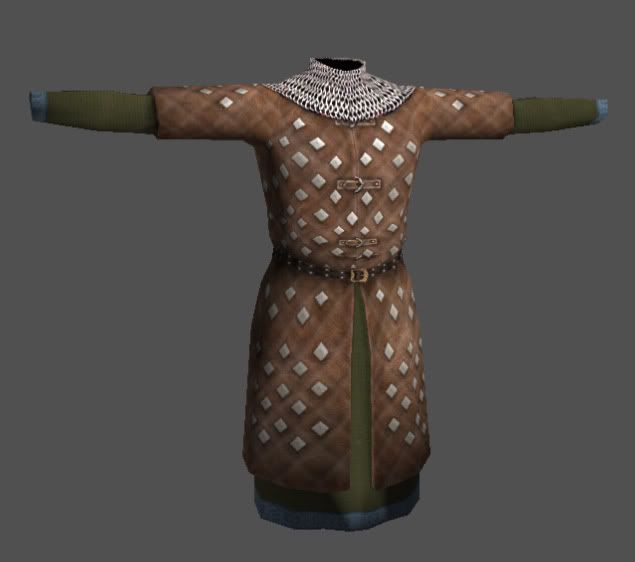 Superior Armors
Superior cuir bouilli
(Superior-Leather-Armorcraft)
Similar to ordinary boiled leathers, but using improved techniques and special elven oils, it is possible to make armor that is just as protective but which is both lighter and more durable.
Banded Metal
(superior-metal-armorcraft)
Likely the height of armorcrafting for northern men, banded metal is preferred as it allows a greater range of movement than bulkier plates.
Solid Breastplates
(superior-metal-armorcraft)
Solid plates are a rare luxury for those that can afford them, and generally are stand-alone pieces - breastplates for the torso, for example.
Chainmail
(superior-metal-armorcraft)
The preferred armor style for the dwarves of the Iron Hills or for men of Gondor, it is noted that even Rohan had to import all of its chain. Pieces of this quality will be imported and highly valued in the northern lands.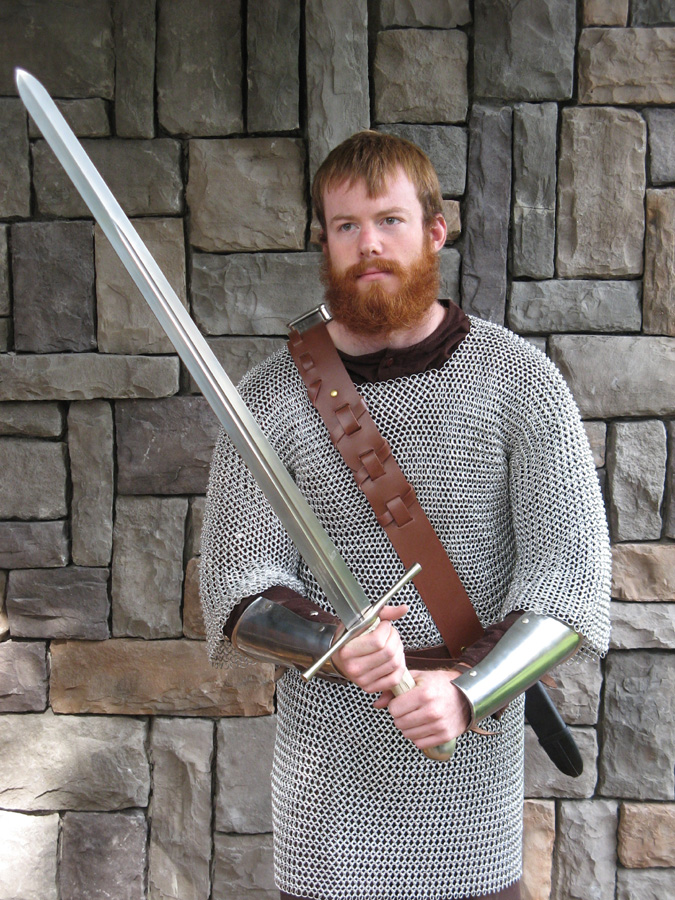 What is known about armors?
Certainly, huntmsen and guardsmen alike have been debating the merits of the various forms of protection available for as long as they've been going into the Mirkwood. It is not likely that this argument will be quelled any time soon, but the following beliefs are commonly held to be true by those that have the experience to know.
While a quilted gambeson or fashioned leathers may do little against a sword, knife, or axe, they are far better than being found in linen and wool if you find yourself facing teeth or claws, and they have even shown their mettle against the errant club, arrow, or spear. These items are flexible and comfortable in daily wear and, being the basic level of armor, relatively inexpensive to keep in repair.
If you expect to face wild beasts, archers, and the occasional bludgeon, you want boiled leather cuir bouilli. These hardened leather plates have the best protection against these threats among ordinary armors, and provide it without sacrificing as much of the stealth that a woodsman often desires.
If you're going to war against spears, swords or knives, you want metal enhancements in your armor to turn the blade. Brigandine gambesons or leathers reinforced with with metal studs, bands, or interlocking rings is the better option if you know you'll face the crafted weapons of man or orc. This extra protection comes with a price, as it is generally heavier and harder to conceal.
Sometimes warriors come from afar with truly superior armor and talk amongst the men of the Inn. Solid metal breastplates, the fine chainmail of the Iron Hills, or horsemen from Framsburg or Rohan with banded metal... most agree that these offer the best protection consistently against any threat. It is not a guarantee they are superior protection to other options, however - usually something else is just as good -- and this starts the dickering amongst the soldiers anew. Those of Utterby argue about the wisdom of such armor away from the battlefield and in the boughs of the Dark Wood.